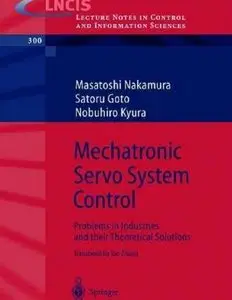 M. Nakamura , S. Goto , N. Kyura , T. Zhang , Masatoshi Nakamura , Satoru Goto , Nobuhiro Kyura, "Mechatronic Servo System Control"
ISBN: 3540210962 | edition 2004 | PDF | 201 pages | 6 mb
This monograph presents the fundamentals as well as the application techniques of servo control systems, which are a key element of Mechatronics. The industrial applications and problems of Mechatronic Servo System Control are demonstrated as well as its theoretical and applicable solutions. The book is unique in its kind in converting a know-how only suitable for special situations until now into a more universal technology. This introductory monograph is aiming at students and engineers who are involved in the field of Mechatronics and Robotics.
My Links