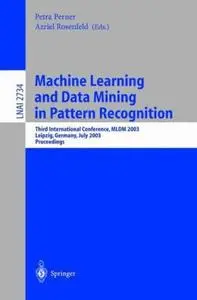 Petra Perner, Azriel Rosenfeld, "Machine Learning and Data Mining in Pattern Recognition"
2003 | pages: 444 | ISBN: 3540405046 | PDF | 5,3 mb
TheInternationalConferenceonMachineLearningandDataMining(MLDM)is the third meeting in a series of biennial events, which started in 1999, organized by the Institute of Computer Vision and Applied Computer Sciences (IBaI) in Leipzig. MLDM began as a workshop and is now a conference, and has brought the topic of machine learning and data mining to the attention of the research community. Seventy-?ve papers were submitted to the conference this year. The program committeeworkedhardtoselectthemostprogressiveresearchinafairandc- petent review process which led to the acceptance of 33 papers for presentation at the conference. The 33 papers in these proceedings cover a wide variety of topics related to machine learning and data mining. The two invited talks deal with learning in case-based reasoning and with mining for structural data. The contributed papers can be grouped into nine areas: support vector machines; pattern dis- very; decision trees; clustering; classi?cation and retrieval; case-based reasoning; Bayesian models and methods; association rules; and applications. We would like to express our appreciation to the reviewers for their precise andhighlyprofessionalwork.WearegratefultotheGermanScienceFoundation for its support of the Eastern European researchers. We appreciate the help and understanding of the editorial sta? at Springer Verlag, and in particular Alfred Hofmann,whosupportedthepublicationoftheseproceedingsintheLNAIseries. Last, but not least, we wish to thank all the speakers and participants who contributed to the success of the conference.
My Link