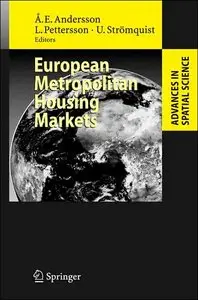 Ake E. Andersson, Lars Pettersson, Ulf Strömquist "European Metropolitan Housing Markets"
Springer | 2007-06-12 | ISBN: 3540698914 | 363 pages | PDF | 5,2 MB
This book provides a comprehensive analysis of housing theory and policy with a focus on metropolitan regions. The results are based on case studies of twelve European metropolitan regions, including expert panels organized in each. Using an approach from the field of industrial economics, the analysis is divided into the three related stages "structure", "conduct" and "performance." The essential idea is that the structure of a market, defined by market conditions, market growth, forms of competition and control, influences the economic behavior of both companies and households. The effects of this behavior can be observed in the development of prices; exchanged, constructed and maintained housing quantities; location patterns and choice of space. The contributions of this volume reveal significant differences in housing policies between European countries, while at the same time showing that policy effects are well in line with expectations based on traditional housing theory.
Download FREE:
No Mirror(s) Please!