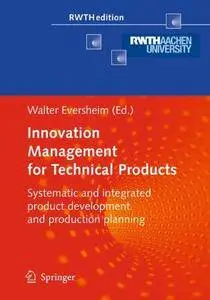 Innovation Management for Technical Products: Systematic and Integrated Product Development and Production Planning (RWTHedition) by Walter Eversheim
English | 2009 | ISBN: 3540857265 | 444 Pages | PDF | 10.94 MB
New ideas for new products are not enough for creating successful markets: Product Innovation means to manage the whole chain from invention to new and best selling products in market. This innovation roadmap has to be carefully and systematically planned and procured. There are a lot of methods for creativity, market analysis, evaluation, technology forecast, and decision gates available within this book. These methods and tools are brought together and their scopes of application as well as their limitations are shown. The whole tool kit of methods and decision models like market studies, value engineering, TRIZ or portfolio analysis and others are linked together to the overall Aachen Innovation Model (AIM).
This handbook is to be used as an innovation management guide as well as an information source for nearly all methods and tools in the field of innovation for technical products.
The complete Innovation Road Map is supported by an interactive, multiple user software tool "EDEN" on an ontology basis. Thus the user has not only access to the collected know how of the past, but can also contribute to growth of expertise within his or her enterprise.