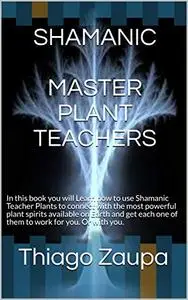 Thiago Zaupa, "Shamanic Master Plant Teachers"
English | 2020 | ASIN: B089515TH9 | 400 pages | AZW4 | 4.68 MB
Learn the secret that the most powerful Shamans of all times have used for centuries to perform their magic abilities, ceremonies and rituals. Meet the most powerful plant teachers available on Earth and connect with their plant spirit or teacher fairies. Using a shamanic technique called Dieta what is the number One most powerful technique used by shamans of the Amazon to become shamans or healers and increase their shamanic power by guidance of shamanic Medicinal Herbs and the World's Most Effective Healing and teacher Plants.
Build your own army of plant spirits that will follow, help and protect you for life. Learn how to use and work with them for healing yourself and others, for protecting you, your family or your business. To open people's hearts. Fix and heal relationships with family, friends, loved ones or an ex partner, to receive support from co-worker or investors in your business career, to boost your self-esteem, to perform big and small tasks for you, to teach you secret knowledge, places and dimensions available only for shamans, to expand your consciousness and even reach enlightenment.
Learn how to become a shaman with the help of the most powerful plant spirit teachers available on Earth