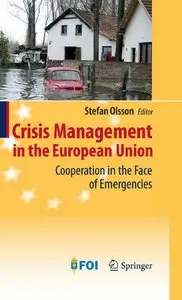 Stefan Olsson "Crisis Management in the European Union: Cooperation in the Face of Emergencies"
Springer | English | 2009-08-12 | ISBN: 3642006965 | 171 pages | PDF | 1,2 MB
In less than a decade, Europe has witnessed a series of large-scale natural disasters and two major terrorist attacks. Growing concern about the trans-national effects of these incidents has caused the EU Member States to seek more multilateral cooperation. As a result, a system of common arrangements for handling large-scale emergencies or disasters has emerged, which, due to its quick and ad-hoc development, may seem almost impenetrable to newcomers to the field. This book seeks to provide a much-needed overview of disaster and crisis management systems in the EU. It provides a basic understanding of how EU policy has evolved, the EU's mandate, and above all, a concise and hands-on description of the most central crisis management arrangements. Written by some of Europe's main experts and consultants in the field, this book represents a unique and comprehensive source of information for everyone involved or interested in the European Union crisis management system.
"This book will quickly become an indispensable resource for two groups: Practitioners will enjoy its accessible and comprehensive style. Academics curious about this emerging field will turn to it for an introductory overview. As someone who closely studies this field, I find the book engaging, detailed, and accurate, and I read every line with great interest. The authors are to be commended for the quality of research that went into this work."
To start download click HERE: