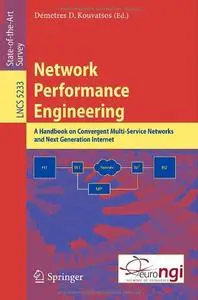 Network Performance Engineering: A Handbook on Convergent Multi-Service Networks and Next Generation Internet by Demetres D. Kouvatsos
English | 2011 | ISBN: 3642027415 | 1098 pages | PDF | 12,9 MB
During recent years a great deal of progress has been made in performance modelling and evaluation of the Internet, towards the convergence of multi-service networks of diverging technologies, supported by internetworking and the evolution of diverse access and switching technologies. The 44 chapters presented in this handbook are revised invited works drawn from PhD courses held at recent HETNETs International Working Conferences on Performance Modelling and Evaluation of Heterogeneous Networks. They constitute essential introductory material preparing the reader for further research and development in the field of performance modelling, analysis and engineering of heterogeneous networks and of next and future generation Internets. The handbook aims to unify relevant material already known but dispersed in the literature, introduce the readers to unfamiliar and unexposed research areas and, generally, illustrate the diversity of research found in the high growth field of convergent heterogeneous networks and the Internet. The chapters have been broadly classified into 12 parts covering the following topics: Measurement Techniques; Traffic Modelling and Engineering; Queueing Systems and Networks; Analytic Methodologies; Simulation Techniques; Performance Evaluation Studies; Mobile, Wireless and Ad Hoc Networks, Optical Networks; QoS Metrics and Algorithms; All IP Convergence and Networking; Network Management and Services; and Overlay Networks.