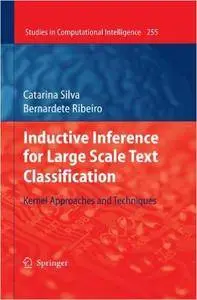 Catarina Silva, Bernadete Ribeiro, "Inductive Inference for Large Scale Text Classification: Kernel Approaches and Techniques"
2009 | pages: 166 | ISBN: 3642045324 | PDF | 2,7 mb
Text classification is becoming a crucial task to analysts in different areas. In the last few decades, the production of textual documents in digital form has increased exponentially. Their applications range from web pages to scientific documents, including emails, news and books. Despite the widespread use of digital texts, handling them is inherently difficult - the large amount of data necessary to represent them and the subjectivity of classification complicate matters.
This book gives a concise view on how to use kernel approaches for inductive inference in large scale text classification; it presents a series of new techniques to enhance, scale and distribute text classification tasks. It is not intended to be a comprehensive survey of the state-of-the-art of the whole field of text classification. Its purpose is less ambitious and more practical: to explain and illustrate some of the important methods used in this field, in particular kernel approaches and techniques.
My Link