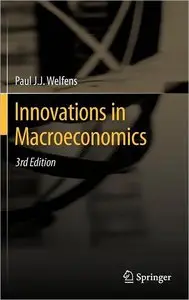 Innovations in Macroeconomics, 3rd Edition by Paul J.J. Welfens
English | 2011 | ISBN: 3642119077 | PDF | 538 pages | 7,9 MB
Modern macroeconomics suffers from an unclear link between short-term Keynesian analysis and long-term growth modelling. This book presents a new link between monetary analysis and growth modelling in open economies.
Structural change, innovations and growth are considered from a new perspective. With respect to economic policy - in particular innovation policy - the analysis implies major changes, concerning both EU countries and other leading OECD economies.