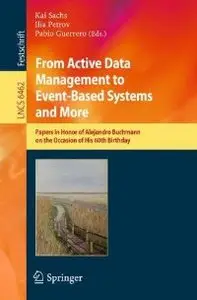 From Active Data Management to Event-Based Systems and More
Publisher: Springer | ISBN: 3642172253 | edition 2011 | PDF | 351 pages | 4,9 mb
Data management has evolved over the years from being strictly associated with database systems, through active databases, to become a topic that has grown beyond the scope of a single field encompassing a large range of subjects, such as distributed systems, event-driven systems, and peer-to-peer and streaming systems. The present collection of works, which sheds light on various facets of data management, is dedicated to Prof. Alejandro Buchmann on the occasion of his 60th birthday. His scientific path looks back on more than thirty years of successful academic life and high-impact research.