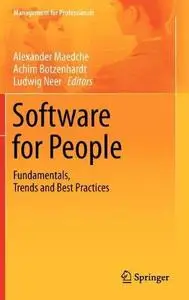 Alexander Maedche, Achim Botzenhardt, Ludwig Neer, "Software for People: Fundamentals, Trends and Best Practices"
English | 2012 | 291 Pages | ISBN: 3642313701 | PDF | 5 MB
The highly competitive and globalized software market is creating pressure on software companies. Given the current boundary conditions, it is critical to continuously increase time-to-market and reduce development costs. In parallel, driven by private life experiences with mobile computing devices, the World Wide Web and software-based services, peoples' general expectations with regards to software are growing. They expect software that is simple and joyful to use. In the light of the changes that have taken place in recent years, software companies need to fundamentally reconsider the way they develop and deliver software to their customers. This book introduces fundamentals, trends and best practices in the software industry from a threefold perspective which equally takes into account design, management, and development of software. It demonstrates how cross-functional integration can be leveraged by software companies to successfully build software for people. Professionals from business and academia give an overview on state-of-the-art knowledge and report on key insights from their real-life experience. They provide guidance and hands-on recommendation on how to create winning products. This combined perspective fosters the transfer of knowledge between research and practice and offers a high practical value for both sides. The book targets both, practitioners and academics looking for successfully building software in the future. It is directed at Managing Directors of software companies, Software Project Managers, Product Managers and Designers, Software Developers as well as academics and students in the area of Software and Information Systems Engineering, Human Computer Interaction (HCI), and Innovation Management.​