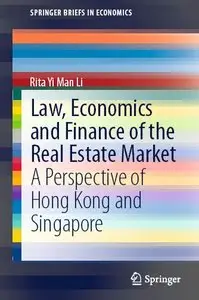 Law, Economics and Finance of the Real Estate Market: A Perspective of Hong Kong and Singapore by Rita Yi Man Li
English | 2014 | ISBN: 3642542441 | 125 pages | PDF | 5,2 MB
The symbiosis between the law, economics and finance is evidenced in our daily lives. This book elucidates the relationship between these factors in Singapore and Hong Kong in direct and indirect real estate market. In Singapore, for example, there is an inseparable relationship between law, economics, finance and the HDB market.
The book also showcases the concept of invitation to treat and offer, monetary compensation for environmental externalities under the lens of institutional economics. It also sheds light on the relationship between financial crisis, regulations, housing prices and indirect real estate market.