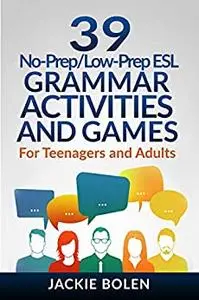 39 No-Prep/Low-Prep ESL Grammar Activities and Games: For Teenagers and Adults by Jackie Bolen
English | September 28, 2020 | ISBN: 1393343279 | 86 pages | EPUB | 0.15 Mb
It's time to find some fresh, new ideas for English grammar classes!
Whether you're a first-time ESL/EFL/TEFL teacher, an experienced but overwhelmed instructor, or an instructor without a textbook, you need more activities for your English classes focused on teaching grammar. If you're tired of wasting time wading through the junk on the Internet, then Jackie is here to help in a big way! These are the activities that she uses in her own classes.
During her decade of experience as a CELTA/DELTA certified teacher, author Jackie Bolen has developed countless games and activities for her students. She's sharing her low-prep/no-prep ideas for grammar teaching with ESL teachers throughout the world.
In 39 No-Prep/Low-Prep ESL Grammar Activities and Games, you'll get over three-dozen ideas to use in your own classroom. The highly-detailed descriptions will show you exactly how to use the activities during your lessons. Jackie's clearly and concisely explained activities will help you add instructional variety and put the focus back on your students. The teaching tips will help you avoid common pitfalls.
Have better English grammar lessons
Help students improve their grammar skills in a big way
Save tons of time when planning lessons
Add some variety into your classes
Make English grammar interesting. Yes, it really is possible!
If you're extremely busy or you're simply out of new ideas, Jackie's book makes it easy to try out new and exciting activities that your students will love! This is the first book in the Teaching ESL Grammar and Vocabulary series by Jackie Bolen.
Feel Free to contact me for book requests, informations or feedbacks.
Without You And Your Support We Can't Continue
Thanks For Buying Premium From My Links For Support