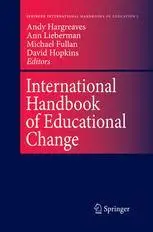 International Handbook of Educational Change: Part One By Andy Hargreaves, Ann Lieberman, Michael Fullan, David Hopkins (eds.)
1998 | 1365 Pages | ISBN: 9401060746 | PDF | 162 MB
The International Handbook of Educational Change is a state of the art collection of the most important ideas and evidence of educational change. The book brings together some of the most influential thinkers and writers on educational change. It deals with issues like educational innovation, reform, restructuring, culture-building, inspection, school-review, and change management. It asks why some people resist change and what their resistance means. It looks at how men and women, older teachers and younger teachers, experience change differently. It looks at the positive aspects of change but does not hesitate to raise uncomfortable questions about many aspects of educational change either. It looks critically and controversially at the social, economic, cultural and political forces that are driving educational change. School leaders, system administration, teacher leaders, consultants, facilitators, educational researchers, staff developers and change agents of all kinds will find this book an indispensable resource for guiding them to both classic and cutting-edge understandings of educational change, no other work provides as comprehensive coverage of the field of educational change.