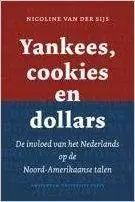 Yankees, Cookies En Dollars: De Invloed Van Het Nederlands Op De Noord-Amerikaanse Talen (Dutch Edition) by Nicoline van der Sijs
Dutch | Aug. 14, 2009 | ISBN: 9089641300 | 321 Pages | PDF | 7 MB
'De Amerikaanse ambassadeur bij de NATO is een kleinzoon van de Texelse schrijver D.L. Daalder. Santa Claus komt vaker in Amerika dan in Nederland. Nicoline van der Sijs schreef er het leukste boek over dat ik dit jaar gelezen heb. Hugo Brandt Corstius, NRC Handelsblad, 11 september 2009 'Van der Sijs heeft met Yankees, cookies en dollars het definitieve boek afgeleverd over het Nederlands in Amerika.' Mieke Zijlmans, De Volkskrant, 4 september 2009 'As a kid in New York's Mohawk Valley I played along the laag kill, called out Kip, Kip, Kip! to our chickens at feeding time, talked to friends on their stoeps after school, and got winklehawks in my blue jeans from scrambling through barbed wire fences. It wasn't until years later that I realized how many Dutch expressions survived in my dialect. This book is a linguistic treasure chest for anyone who grew up in the area covered by the Dutch colony of New Netherland.' Charles Gehring, New Netherland Project, New York State Library.