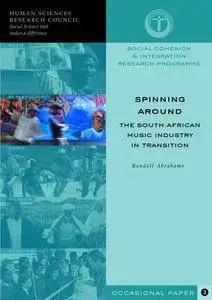 Spinning Around: The South African Music Industry in Transition by Randall Abrahams
English | Dec. 31, 2003 | ISBN: 0796920826 | 40 Pages | PDF | 0.20 MB
The Human Sciences Research Council (HSRC) publishes a number of occasional paper series. These are designed to be quick, convenient vehicles for making timely contributions to debates, disseminating interim research finds or they may be finished, publication-ready works. Authors invite comments and suggestions from readers. This paper was first presented at the History, Memory and Human Progress conference held in early October 2002 by the Department of Education and the South African History Project. It was revised for presentation as a joint HSRC Living Treasures/Department of Education Sol Plaatje lecture, given on 26 February 2003 at the Baxter Theatre, Cape Town. Living Treasures is a project of the Social Cohesion and Integration Research Programme of the HSRC, managed by Senior Editorial Specialist, Lynne Wilson. The Sol Plaatje Lecture Series on Africa provides a platform to explore the rich socio-political and cultural history of our continent.