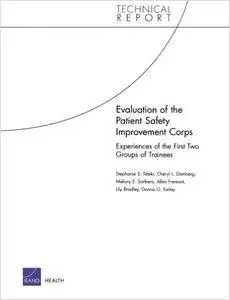 Evaluation of the Patient Safety Improvement Corps: Experiences of the First Two Groups of Trainees (Technical Report (RAND)) by Stephanie S. Teleki
English | Sep. 15, 2006 | ISBN: 083303992X | 118 Pages | PDF | 0.40 MB
An evaluation of the first two years of the Agency for Healthcare Research and Quality and Veterans' Affairs' Patient Safety Improvement Corps program for improving health care professionals' patient-safety knowledge and skills. Data were collected through in-person interviews at the final training session, and through telephone follow-up interviews one year later. Overall, participants valued the tools and skills they learned and continue to use.
Since 2000, the Agency for Healthcare Research and Quality (AHRQ) has had a congressional mandate to take a leadership role in helping health care providers reduce medical errors and improve patient safety. As part of its patient safety initiative, AHRQ established the Patient Safety Improvement Corps (PSIC) in partnership with the Department of Veterans Affairs (VA) National Center for Patient Safety (NCPS), which is known for its patient safety expertise. The goal of the PSIC is to improve patient safety across the nation by training health care professionals in core patient safety knowledge, skills, and tools. The core content of the curriculum was developed by AHRQ based upon the findings of a feasibility study as well as consultation with experts and key stakeholders. Through an interagency agreement, AHRQ contracted with the VA NCPS to conduct the training.