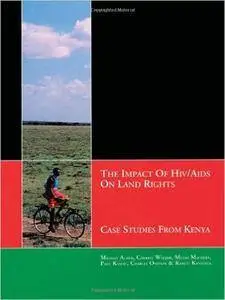 The Impact of HIV/AIDS on Land Rights: Case Studies from Kenya by Michael Aliber
English | Apr. 1, 2005 | ISBN: 0796920540 | 224 Pages | PDF | 1 MB
This in-depth investigation uses three village case studies from different parts of Kenya to examine the impact of HIV and AIDS on the land rights of individuals and households and identify the link this disease has with land tenure and administration.
This study explores the relationship between HIV/AIDS and land rights in Kenya, with a particular focus on women as socially vulnerable group. Combining participatory research techniques, household surveys, and in-depth person-to-person interviews, the study examines three village case studies in different parts of Kenya, and attempts to distinguish the role of HIV/AIDS in recipitating or aggravating tenure insecurity from other influences. The primary objective is to understand the relationship between the AID-affected status of households and individuals and changes in their land tenure status, if any. This requires identifying both the personal factors that make some people more vulnerable than others and the contextual factors (including legal, economic and cultural) that condition that vulnerability. An important methodological component of the study is that it does not confine itself to AIDS-affected households only, but compares affected with non-affected households. Through this study HIV/AIDS emerges as a significant but not primary cause of tenure insecurity.