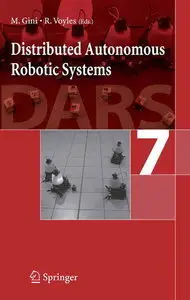 Maria Gini, Richard Voyles, "Distributed Autonomous Robotic Systems 7"
S inger 2006-07-25 | 249 Pages | ISBN: 4431358781 | PDF | 4 MB
The book includes the papers that have been selected by an international program committee for presentation at the 8th International Symposium on Distributed Autonomous Robotic Systems. The papers present state of the art research advances in the field of distributed robotics. What makes this book distinctive is the emphasis on using multiple robots and on making them autonomous, as opposed to being teleoperated. Novel algorithms, system architectures, technologies, and numerous applications are covered.
Download