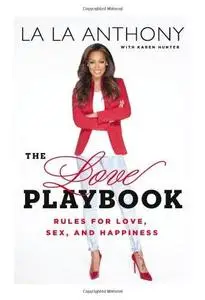 The Love Playbook: Rules for Love, Sex, and Happiness By La La Anthony, Karen Hunter
2014 | 240 Pages | ISBN: 0451466446 | EPUB | 1 MB
Star of VH1's La La's Full Court Life, actress, entrepreneur, and wife of New York Knick's star Carmelo Anthony – La La Anthony found love and success on her own terms. But before La La was a strong woman balancing a growing career, a high-profile marriage, and motherhood, she suffered through bad dates, tumultuous relationships, and backstabbing friends. She learned the hard way how to rise above it all to live the life she loves. And now, for the first time, she channels her most rewarding and challenging lessons into a personal playbook, providing empowering, go-to advice for healthy relationships and a happy life.   With her attitude of no nonsense and no judgments, La La is the one her friends come to for relationship advice. She tells it like it is, sharing her personal experiences and revealing intimate details about her marriage and past relationships, to illustrate what she's learned the hard way.   In The Love Playbook, La La provides play-by-play plans—from teaching your man the right way to treat a woman to dealing with a fickle friend, and, of course, how to snag a baller. With personal secrets and empowering advice, you will learn how to take control of your relationships, rise above adversity, and live your life by your rules.   THE LOVE PLAYBOOK is the everywoman guide to finding love, building healthy relationships, and staying true to yourself along the way.