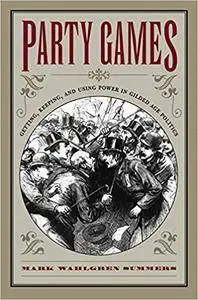 Party Games: Getting, Keeping, and Using Power in Gilded Age Politics by Mark Wahlgren Summers
English | Apr. 19, 2004 | ISBN: 0807855375, 0807828629 | 369 Pages | PDF | 4 MB
Much of late-nineteenth-century American politics was parade and pageant. Voters crowded the polls, and their votes made a real difference on policy. In Party Games, Mark Wahlgren Summers tells the full story and admires much of the political carnival, but he adds a cautionary note about the dark recesses: vote-buying, election-rigging, blackguarding, news suppression, and violence.
Summers also points out that hardball politics and third-party challenges helped make the parties more responsive. Ballyhoo did not replace government action. In order to maintain power, major parties not only rigged the system but also gave dissidents part of what they wanted. The persistence of a two-party system, Summers concludes, resulted from its adaptability, as well as its ruthlessness. Even the reform of political abuses was shaped to fit the needs of the real owners of the political system–the politicians themselves.