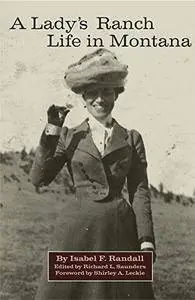 A Lady's Ranch Life in Montana (The Western Frontier Library Series) by Isabel F. Randall
English | Oct. 25, 2004 | ISBN: 080613609X, 0806136405 | 213 Pages | PDF | 7 MB
"A faithful and unvarnished Record of a Settler's Life" is how Isabel Randall described her letters when they were first published in 1887. Many foreign travelers published accounts of their visits to the American West, but Randall was one of the few European women to write about the western experience from the inside.
In 1884 Randall and her husband settled on a ranch in Montana hoping to make their fortune in the livestock boom. Randall's letters home to England describe the practical affairs of daily life, rural social interactions, and the natural world around her. Her letters are cheerful, but they also suggest why the Randalls ultimately failed to achieve financial success.
In this new edition of A Lady's Ranch Life in Montana, Richard L. Saunders supplements Randall's letters with notes and an extensive introduction drawn from a wealth of primary sources. He sketches the Randalls' lives before and after their western adventure, describes the stock industry that drew them to Montana, places Isabel's letters in the context of English attitudes toward Americans, and discusses her neighbors' reactions to her criticisms of local society.