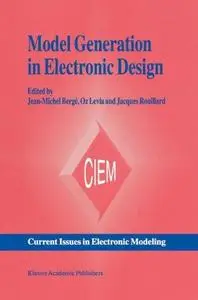 Model Generation in Electronic Design By Marcus Blüml, Frédérique Bouchard, Adam Pawlak (auth.), Jean-Michel Bergé, Oz Levia, Jacques Rouillard (eds.)
1995 | 155 Pages | ISBN: 1461359899 | PDF | 12 MB
Model Generation in Electronic Design covers a wide range of model applications and research. The book begins by describing a model generator to create component models. It goes on to discuss ASIC design and ASIC library generation. This section includes chapters on the requirements for developing and ASIC library, a case study in which VITAL is used to create such a library, and the analysis and description of the accuracy required in modeling interconnections in ASIC design. Other chapters describe the development of thermal models for electronic devices, the development of a set of model packages for VHDL floating point operations, a techniques for model validation and verification, and a tool for model encryption. Model Generation in Electronic Design is an essential update for users, vendors, model producers, technical managers, designers and researchers working in electronic design.