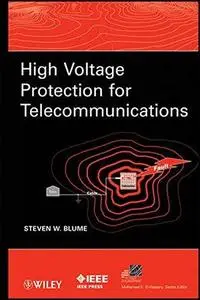 High Voltage Protection for Telecommunications (IEEE Press Series on Power Engineering) By Steven W. Blume
2011 | 260 Pages | ISBN: 0470276819 | PDF | 4 MB
Sets forth the steps needed to protect critical telecommunications circuits from power faults and lightning in high voltage environmentsThe need to protect telecommunications circuits from power faults and lightning has never been greater: when power outages or system disturbances occur, reliable telecommunications are essential. With this book as their guide, readers will know what they need to do (and not do) to protect critical telecommunications circuits and equipment located in high voltage environments such as electrical power plants, substations, and power towers. Moreover, the book explains how to get the job done safely, detailing the proper implementation of safety procedures and the use of protective equipment to eliminate or minimize risk.Setting the foundation, the book begins with an overview of the problem, key issues, industry standards, and safety concerns. Next, it covers: Definitions and fundamentals of electric power systems, with regard to HVPT applicationsCauses, boundary conditions, and calculations of ground potential riseCritical telecommunications circuits that must be protected in high voltage environmentsProtection schemes and equipment to resolve groundpotential rise problemsEffective installation and testing of high voltage interface equipmentPersonal safety for telecommunications personnel working with equipment in high voltage environmentsThroughout the book, the author refers to accepted industry standards and best practices. Written by one of the most respected professional trainers in the telecommunications industry, High Voltage Protection for Telecommunications can be used for professional training courses or self-study. It will enable readers to protect critical data and voice communications circuits from high voltage events and protect themselves during equipment installation and maintenance.