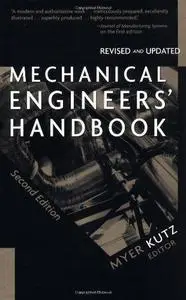 Mechanical Engineers' Handbook By Myer Kutz
1998 | 876 Pages | ISBN: 0471130079 | DJVU | 7 MB
The Mechanical Engineering Handbook provides extensive coverage on the fundamental topics and emerging issues involved in mechanical engineering, from the structure of solids to virtual reality. Each chapter has a detailed table of contents, most contain graphs, figures, references, and a bibliography to aid the reader's comprehension. Several chapters in this handbook were found to be particularly engaging: "What the Law Requires of an Engineer" provides examples and case studies to clarify topics such as hazard analysis; and, "Electronic Information Resources: Your On-line Bookshelf," discusses why tapping into technical information can help engineers avoid mistakes. The final section of the handbook, "Management, Finance, Quality, Law, and Research," strays from the traditional ideas of a professional desk reference. It deals with a variety of topics not dealt with in similar works. For example, the chapter "Managing People" explains motivation and barriers to team performance.