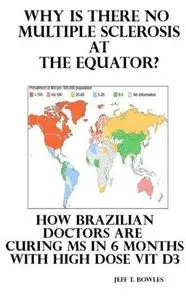 WHY IS THERE NO MULTIPLE SCLEROSIS AT THE EQUATOR? HOW BRAZILIAN DOCTORS ARE CURING MS WITH HIGH-DOSE D3 By Jeff T. Bowles
2014 | 250 Pages | ISBN: 1493787438 | EPUB | 1 MB
This book is for MS sufferers or their friends who do not want to take NO for an answer...there is a cure...and here it is! It will only cost you $2.99 plus the cost of high doses of two vitamins... (actually 1 hormone and 1 vitamin...Vitamin D3 is a hormone and was mislabeled when it was discovered)..Sounds too good to be true right? Wrong.-.this is true and there is no downside , no side effects..try it and see for yourself! Doctors scare you off from taking high doses of D3 with the boogie man of "Vitamin D toxicity". .add high dose Vitamin K2 to the mix....and virtually all the risks of D3 toxicity go away....D3 is the hormone your skin makes when exposed to sun...People at the equator used to not get MS before sunscreen and sun avoidance....Lots of sun or lots of D3 will prevent and CURE MS........adding K2 makes it safe! DO NOT BUY THIS BOOK FOR CASUAL READING..THIS IS FOR MS SUFFERERS , THEIR FRIENDS, OR FAMILY ONLY.! This IS the better mousetrap! Most MD's get just a basic 4 years in Med School, then work to earn not learn. I've researched diseases and aging for 20+ years, with a 10 year stint where I spent 12 hrs/day everyday in the Northwestern Med School's library just reviewing clinical and scientific studies! I've had 3 major theory papers published; the publishing journal has 5 Nobel Prizes between the editors. And described my papers as extremely exciting and of major importance! During my research into the amazing results of taking high doses of the bone and joint remodeling hormone (also known as Vitamin D3) I have run across an amazing account of a doctor in Brazil who has recently been treating his MS patients with high doses of Vitamin D3- and it not only helps them it seems to be curing them. In interviews his patients now refer to the time when they had MS in the past -as they are in fact cured.They loved switiching from interferon injections to high dose D3 as D3 was much more effective and had no side effects! It seems the bone and joint remodeling hormone is also the nerve sheath remodeling hormone. This book also takes you step by step how to institute your own high dose D3 therapy, what to expect, dangers to avoid, and how to mitigate any chance of Vit D toxicity.