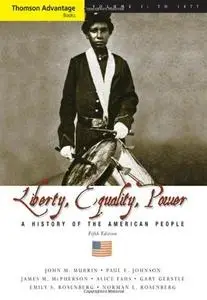 Cengage Advantage Books: Liberty, Equality, Power: A History of the American People, Volume I: To 1877, Compact By John M. Murrin, Paul E. Johnson, James M. McPherson, Alice Fahs, Gary Gerstle
2007 | 658 Pages | ISBN: 0495411027 | PDF | 23 MB
You spoke and Wadsworth, a part of Cengage Learning listened. This Compact Version is part of the Cengage Advantage Books, which offers our Comprehensive texts in a lower-cost format. This black and white version of LIBERTY, EQUALITY, POWER includes eight 4-page color map inserts to bring the regions to life. While the compact version includes fewer photos than the Comprehensive version, it offers plenty of resources to make the course visual and exciting for students. In addition, students will have access to the Book Companion Website that offers quizzing, interactive maps, interactive timelines, and simulations.