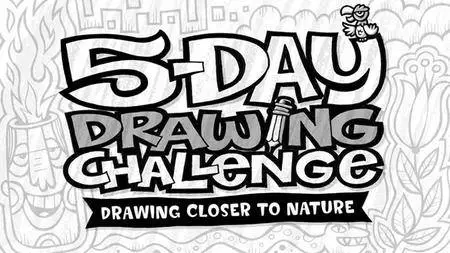 5-Day Drawing Challenge: Drawing Closer to Nature
HDRips | MP4/AVC, ~433 kb/s | 1280x720 | Duration: 00:43:57 | English: AAC, 128 kb/s (2 ch) | Subtitles: English | 465 MB
Genre: Drawing
Drawing is for everyone. It just takes practice! Exercise your drawing skills and become better at seeing and capturing the world around you with Von Glitschka's 5-day drawing challenges. This installment asks you to reconsider the fascinating subjects Mother Nature provides and reinterpret them using your own imagination and a pen, pencil, or stylus.
Von will assign a drawing challenge for each day. Take the time you need to finish each challenge, and then watch the video where Von shares his own hand-drawn solution. There are no right answers here; his solutions should serve as inspiration. For more encouragement, check out the chapter on staying inspired, featuring artist Oguzhan Secir. And don't forget to share your drawings via Twitter and Facebook! Use the hashtag #5daydraw.
Welcome to the best eLearning video (English, German, French, Spanish language) and many more:
LINK
Do not forget to check my blog! Updated regularly! Add in bookmarks my blog :)
PM me if Links not working!
No mirrors pls!