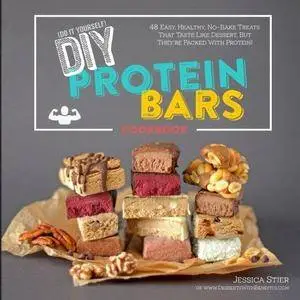 DIY Protein Bars Cookbook: Easy, Healthy, Homemade No-Bake Treats That Taste Like Dessert, But Just Happen To Be Packed With Protein! By Jessica Stier
2014 | 85 Pages | ISBN: 1500386715 | EPUB | 2 MB
***SECOND Edition now available!*** The DIY Protein Bars Cookbook [2nd Edition] comes with an all new, restyled interior design, upgraded photography, and updated recipes based on customer feedback and to streamline the bar-making process. Enjoy! DIY Protein Bars is a collection of 48 easy, healthy, homemade, no-bake treats that just happen to be packed with protein! All of the recipes are (or can easily be made) gluten-free, dairy-free, soy-free, and vegan, but you'd never know it. These protein bars are so tasty, addicting, and good for you, you'll never go back to the store-bought stuff again. And the fun doesn't stop there. Every recipe in this cookbook is all-natural -- no artificial sweeteners, synthetic food dyes, artificial food flavorings, hydrogenated oils, or preservatives, whatsoever. That list right there is unheard of when it comes to store-bought protein bars. Each recipe comes with a nutrition label so you can see how many calories, grams of fat, carbs, protein, etc., are in each serving. No matter what, though, there are options for everyone's nutritional preferences: (refined) sugar-free, cholesterol-free, low-calorie, low-sodium, high fiber, and high protein. These recipes might be "free" of some stuff, but they sure aren't free of flavor. These recipes are a total godsend for the health-conscious protein bar lovers out there (aka, YOU). Let's all make the same, scratch that, better versions of store-bought bars right at home!