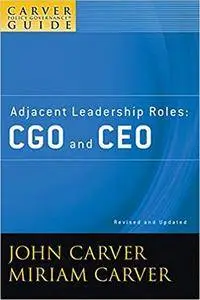 A Carver Policy Governance Guide, Adjacent Leadership Roles: CGO and CEO (Volume 4) by John Carver
English | Apr. 13, 2009 | ISBN: 047039255X | 43 Pages | PDF | 1 MB
The Carver Policy Governance Guide series includes six booklets that offer board members a description of John Carver's Policy Governance model of board leadership. Policy Governance enables a board to fulfill its accountability to its organization's "owners," whether the owners are association members, city residents, company shareholders, or a community of interest. Policy Governance addresses the board's engagement in financial, programmatic, and personnel matters; roles of officers and committees; reporting and evaluation; agendas; and other aspects of the board job.
For boards pursuing, or wanting to pursue, the Policy Governance model, Adjacent Leadership Roles: CGO and CEO examines the leadership roles needed in the boardroom and the executive suite. This guide reveals the two important and separate functions that are key to enabling both governance and management to have the benefit of optimal leadership.
The Policy Governance model is based on the functions rather than the structure of a governing board. It outlines commonsense principles about governing that fit together into an entire system. The practices of the Policy Governance board, which are consistent with the principles, allow it to control without meddling, focus on long-term organizational outputs, powerfully delegate to a CEO and staff, and discharge its fiduciary responsibility in a visionary, strategic manner. Because the model is a total system, the Carver Policy Governance Guide series offers boards a complete set of principles for fulfilling their various obligations.