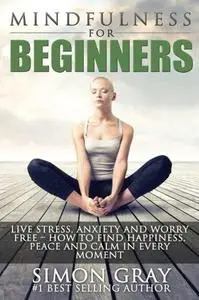 Mindfullnes for Beginners Live Stress, Anxiety and Worry Free - How to Find Peace, Happiness and Calm in Every Moment By Simon Gray
2015 | 185 Pages | ISBN: 1511597070 | EPUB | 1 MB
BONUS - 90 DAY MINDFULNESS GUIDE AND JOURNAL INCLUDED FREE! Discover the Art of Living Anxiety FREE, Worry FREE, Depression Free and Find Peace, Calm and Happiness in Each and Every Moment! Sneak Peak of Mindfulness for Beginners by #1 Bestselling Author Simon Gray (Author of the #1 Best Seller "Law of Attraction Secrets") Understand Mindfulness Simply and Clearly! Where does Mindfulness Come From? Who Are the Mindfulness Masters? Why Mindfulness Will Be Life Changing For You! REAL LIFE Mindfulness Testimonials and Stories How Mindfulness Positively Impacts All Areas of Life! The Actual How-to-Guide for Mindfulness! Step by Step! BONUS 90 DAY MINDFULNESS JOURNAL!