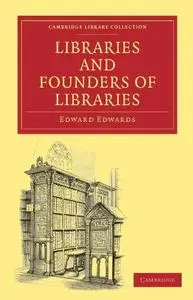 Libraries and Founders of Libraries By Edward Edwards
2010 | 528 Pages | ISBN: 0511694628 | PDF | 9 MB
This comprehensive volume, first published in 1864, covers the history of libraries from classical times to the nineteenth century, principally in England but also further afield. The author was an influential figure in the founding of municipal libraries in nineteenth-century Britain and regarded access to good libraries as crucial to education and civilisation. He emphasises the importance of individual collectors in the building of great libraries, and examines the personal holdings of many writers and scholars as well as members of royal families, the aristocracy, and clergy. Some of these are well known, others less commonly encountered in surveys of library history. Edwards also discusses the subsequent history of these collections, their dispersal or incorporation into other libraries. Other important topics covered by Edwards include the development and organisation of the State Paper Office and Public Records Office from the medieval period onwards.