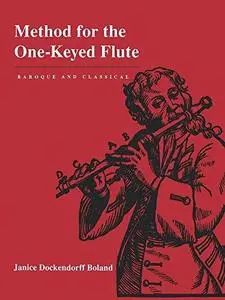 Method for the One-Keyed Flute: Baroque and Classical By Janice Dockendorff Boland
1998 | 236 Pages | ISBN: 0520214471 | PDF | 10 MB
This indispensable manual for present-day players of the one-keyed flute is the first complete method written in modern times. Janice Dockendorff Boland has compiled a manual that can serve as a self-guiding tutor or as a text for a student working with a teacher. Referencing important eighteenth-century sources while also incorporating modern experience, the book includes nearly 100 pages of music drawn from early treatises along with solo flute literature and instructional text and fingering charts. Boland also addresses topics ranging from the basics of choosing a flute and assembling it to more advanced concepts such as tone color and eighteenth-century articulation patterns.