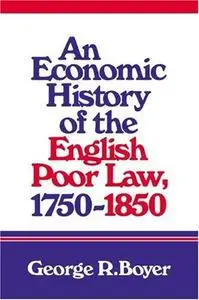 An Economic History of the English Poor Law, 1750-1850 By George R. Boyer
2006 | 312 Pages | ISBN: 0521031869 | DJVU | 2 MB
During the last third of the eighteenth century, most parishes in rural southern England adopted policies providing poor relief outside workhouses to unemployed and underemployed able-bodied labourers. The debate over the economic effects of 'outdoor' relief payments to able-bodied workers has continued for over 200 years. This book examines the economic role of the Poor Law in the rural south of England. It presents a model of the agricultural labour market that provides explanations for the widespread adoption of outdoor relief policies, the persistence of such policies until the passage of the Poor Law Amendment Act in 1834, and the sharp regional differences in the administration of relief. The book challenges many commonly held beliefs about the Poor Law and concludes that the adoption of outdoor relief for able-bodied paupers was a rational response by politically dominant farmers to changes in the rural economic environment.