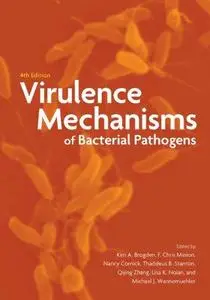 Virulence Mechanisms of Bacterial Pathogens By Cornick, Nancy; Minion, F. Chris; Wannemuehler, Michael J.; Brogden, Kim A.; Zhang, Qijing; Nolan, Lisa K.; Stanton, Thaddeus Brian
2007 | 349 Pages | ISBN: 1555814697 | PDF | 8 MB
A ground-breaking overview of how bacterial pathogens cause disease.Explains the wide variety of mechanisms used by bacterial pathogens and summarizes proven strategies for overcoming them. Reviews the pathogenesis of bacterial diseases and mechanisms of host-pathogen interactions for non-specialists and advanced students in the fields of bacteriology and immunology. Provides an essential source of the latest information on the mechanisms of bacterial pathogens and also serves as a textbook for graduate courses on bacterial pathogenesis. Serves as a resource for specialists in bacterial pathogenicity, such as molecular biologists, physician scientists, dental scientists, veterinarians, molecular biologists, industry researchers, and technicians.