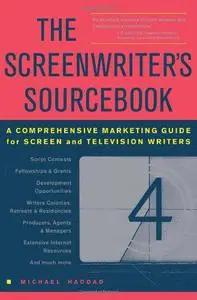 The Screenwriter's Sourcebook: A Comprehensive Marketing Guide for Screen and Television Writers By Michael Haddad
2005 | 384 Pages | ISBN: 1556525508 | PDF | 5 MB
Written for both new and experienced writers, this comprehensive marketing guide offers advice and tips needed by writers to succeed in the film and television industries. Focusing on the business of writing, it gives writers the unabashed truth about the film industry, and advice on how to get scripts to the gatekeepers of the studios and read by agents. Comprehensive listings of contests, fellowships, grants, and development opportunities from an industry expert provide specific information on securing a healthy writing career. This extensive resource also includes guidelines regarding copyrights, sources for emergency funds, a listing of online resources, information on writers' colonies and retreats, and more.