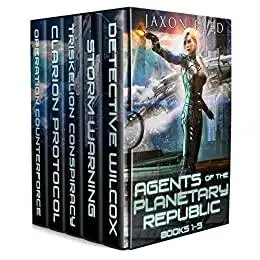 Jaxon Reed, "Agents of the Planetary Republic Books 1-5"
English | 2021 | ASIN: B08RYB4S19 | 1186 pages | EPUB | 1.1 MB
Ex-Space Marine Gina Wilcox transitions to civilian life, jumping into a career in law enforcement after the war. But peacetime criminals play dirty, with high tech toys for high risk jobs. Fortunately, Wilcox has several tricks up her sleeve, with gadgets and weaponry equal to the tasks at hand.
When old League codes activate long dormant sleeper cells, the Republic's capital explodes in a crime wave. The Navy has plans to fight back, assembling a team of grizzled Marines led by Commander Hamilton Wolf. These misfits spent more time in the brig than out, but their skills for wanton destruction sends them to the top of the list for a suicide mission reprisal.
Together, Wolf and Wilcox lead Agents of the Planetary Republic against forces of the League. Don't miss this rip-roaring action-packed adventure in Jaxon Reed's Milky Way Universe!
Books in this box set include Detective Wilcox, Storm Warning, Triskelion Conspiracy, Operation Counterforce, and Clarion Protocol.