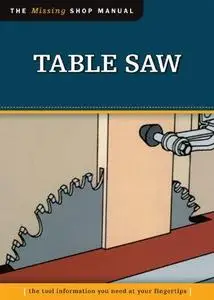 Table Saw. The Missing Shop Manual By John Kelsey
2010 | 127 Pages | ISBN: 1565234715 | PDF | 15 MB
Dedicated to providing integral information about woodworking tools and techniques that other manuals overlook, the books in this series contain safety facts, explanations about basic project setup, and tips for maximizing tool performance. Filled with clear diagrams and instructions, these pocket-sized, durable manuals are ideal for quick reference in the workshop.Created for woodworkers with unanswered questions about the use and upkeep of table saws, this simple guide offers clear, sensible advice, surveying the fundamental uses, safety, and care of table saws through detailed illustrations and descriptions. The images and instructions within are easily applicable and comprehensible, making this pocket-sized guide a must-have for any table saw owner.