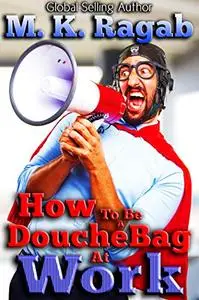 M. K. Ragab, "How To Be a Douchebag at Work"
English | 2021 | ASIN: B08WHHWRN5 | 54 pages | PDF | 0.65 MB
Having more than 16 years of experience working in various jobs including both corporate and educational, I have come to the conclusion that there are three types of people in this world, good people, bad people, and corporate accountants!
Working is difficult, and achieving a good work environment is (supposedly) a major goal for all businesses. But it is not always so easy to achieve, as there are many obstacles that can hinder that objective, and all of those obstacles can be easily traced back to assholes, jerks, douchebags and bitches at work!
So after all those years working in many offices and many companies, I think it's safe to say that it is hopeless! The perfect office doesn't exist, the perfect boss doesn't exist, and the perfect job definitely doesn't exist! So why are we still trying when we should all be focusing our energy on giving up? Just let the effing cat die!
Now, I say the time has come, to celebrate all those bastards who contributed to the ruin of our economy one way or another, and commend them for their efforts in causing all of us to have pathological chronic stress and a reactive bowel movement.
Thanks to managers out there, the suicide rates and general depression has become higher than any other time in the human history, which I believe is quite an achievement, we should all be super happy we are alive to witness such greatness!