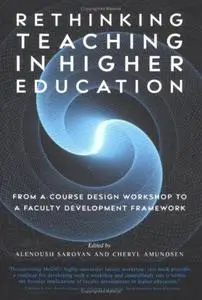 Rethinking Teaching in Higher Education: From a Course Design Workshop to a Faculty Development Framework By Alenoush Saroyan, Cheryl Amundsen
2004 | 270 Pages | ISBN: 1579220460 | PDF | 7 MB
This book is intended for faculty and faculty developers, as well as for deans, chairs, and directors responsible for promoting teaching and learning in higher education. Intentionally non-technical, it engages readers reflectively with a process for developing teaching and details the planning necessary to apply this process to teaching within disciplines.The book centers on McGill University's week-long Course Design and Teaching Workshop that the contributors have offered together for more than ten years. It follows the five day format of the workshop–covering the analysis of course content, conceptions of learning, the selection of appropriate teaching strategies, the evaluation of student learning, and evaluation of teaching–in a way that reflects the spontaneity of the debates it has engendered and the workshop's evolutionary changes. The structure shows faculty members conceptualizing new courses or re-examining their teaching of existing courses, and translating the insights gained from the workshop to specific disciplinary content and learning outcomes. In addition four previous participants of the workshop write about its influence on their personal thinking about the practice of teaching.The final two chapters describe the structure and evolving role of McGill's Centre for University Teaching and Learning. The authors describe its objectives in fostering an evidence-based teaching culture and providing a practical support structure with limited resources. They highlight achievements in disseminating teaching expertise across their campus, and their vision for the future role of faculty development. This book provides faculty developers and administrators with valuable non-prescriptive models and challenging ideas that promote faculty development in general and university teaching in particular. It engages faculty members in the process of course design in a way that is learning centered and can lead to deep student learning.