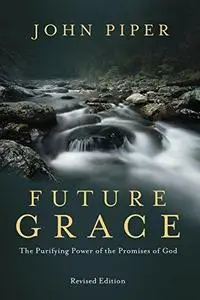 Future Grace, Revised Edition: The Purifying Power of the Promises of God By John Piper
2012 | 428 Pages | ISBN: 1601424299 | EPUB | 2 MB
Explore this stunning quality of God's grace: It never ends!In this revision of a foundational work, John Piper reveals how grace is not only God's undeserved gift to us in the past, but also God's power to make good happen for us today, tomorrow, and forever. True life for the follower of Jesus really is a moment-by-moment trust that God is dependable and fulfills his promises.  This is living by faith infuture grace, which provides God's mercy, provision, and wisdom—everything we need—to accomplish his good plans for us.  InFuture Grace, chapter by chapter—one for each day of the month—Piper reveals how cherishing the promises of God helps break the power of persistent sin issues like anxiety, despondency, greed, lust, bitterness, impatience, pride, misplaced shame, and more.Ultimate joy, peace, and hope in life and death are found in a confident, continual awareness of the reality of future grace.