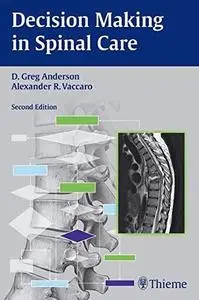 Decision Making in Spinal Care By David Greg Anderson, Alexander R. Vaccaro
2013 | 612 Pages | ISBN: 160406417X | PDF | 48 MB
"Decision Making in Spinal Care, 2nd Edition presents current management strategies for the most common spine problems, including trauma injuries, metabolic and degenerative diseases, and spinal deformities. Each chapter opens with a concise introduction to the topic and discussion of the classification of the injury, condition, or management approach. The authors then describe the diagnostic workup of the patient, the treatment options available, the likely outcome, and possible complications. Chapters also include useful decision making algorithms"--Provided by publisher.