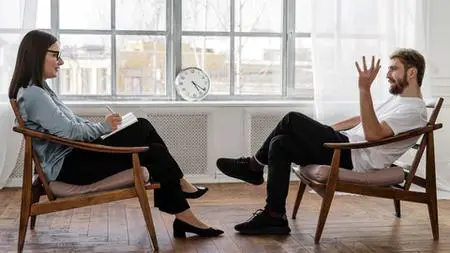 60 Plus Stress-Relieving Tactics For Everyone (Accredited)
Published 9/2022
MP4 | Video: h264, 1280x720 | Audio: AAC, 44.1 KHz
Language: English | Size: 2.33 GB | Duration: 2h 16m
60 Plus Simple Steps Every Day To Create The Life You Want
What you'll learn
Better Health
Better Emotional Management
Better Mental Status
Less Mood Swings
Better Relationships
Better Sleep
Better Performance at Work
Weight Control
Reduced Muscles Tension
Reduced Stress and Anxiety
Requirements
Willingness, open-mindedness, practice and consistency are the requirements to receive everlasting benefits from this course
Description
This 60 Plus Stress-Relieving Tactics for Everyone Course is designed to encourage small yet meaningful changes that will ultimately lead to the big change of living a happier and healthier lifestyle. The idea is simple: Give yourself time to slowly integrate important changes over time, so they are more likely to stick for the long-term; which will eventually lead to a much better life. Students will be able to achieve the following bullet points not only for themselves but can also help their loved ones and community to a much relaxed life style:Holistic Approach A happy, healthy lifestyle requires more than eating a healthy diet or being active. It requires that you address several aspects of life. Creating a happier, healthier lifestyle will be very rewarding. Here are some of the biggest benefits you can look forward to: 1. A Fuller, More Rewarding Life:  You will have more energy, strength, and mental stability, which will allow you to enjoy life to the fullest, perform at your best, and feel great in all aspects of life. 2. Improved Outlook: You will have a happier, more positive outlook, which will extend into your personal relationships, work, and other areas of your life. 3. Graceful Aging: Living a healthy lifestyle means making healthy choices, staying active, and feeling energetic at every age. As a result, you'll look and feel younger, longer. 4. Self-esteem: Taking care of yourself allows you to not only feel good physically but also helps you to feel good mentally. This directly results in a boost to your self-confidence and self-esteem. 5. Natural Prevention: Taking a proactive approach to living healthy today will prevent the need to be reactive tomorrow. Prioritizing your health will help prevent diseases such as diabetes, cancer, and heart disease; will slow down the aging process; and will keep you mentally alert. 6. Increased Control of Your Life: When life hands you lemons you'll be better prepared both physically and mentally to make lemonade. You will feel less overwhelmed when you are presented with life's unpredictable challenges and will be able to cope with them in a more productive and effective way. 7. Raised Awareness: Through this process, you'll become highly aware of the choices you make. This heightened awareness will enable you to listen to your body and your mind to know what they need to feel their best.This course targets the many modern world issues and provides solutions like fast stress relief, reduced anxiety, enhanced sleep, improved health, better clarity and understanding of different issues not only in personal life but also professional life and work place related issues and to deal and cope with the unwanted situations.Students who will complete this course will receive an official CERTIFICATION by International Association of Accredited Mentors (IAOAM) to acknowledge the learning for simple relaxation tips for stress management in daily life. . Details for how to request the official certification will be provided at the end of the course.
Overview
Section 1: Introduction
Lecture 1 Do you really need this course?
Lecture 2 Do you know your Hormones needs help?
Lecture 3 What's the solution to address stress now a days?
Lecture 4 Long Term Investment in Your Mental and Physical Well Being
Lecture 5 Frequently Asked Questions (FAQ) about Stress
Lecture 6 Top 10 Stress Statistics 2022
Lecture 7 Know yourself
Section 2: Stress and Its Management
Lecture 8 Sources of Stress
Lecture 9 Difference Between A Stressor And Stress
Lecture 10 Positive (Eustress) & Negative(Distress) Stress
Lecture 11 Stress Management
Lecture 12 Ensuring Your Success
Lecture 13 Benefits of the Course (Happier, Healthier Lifestyle)
Lecture 14 Time to Take Action!
Lecture 15 Know More
Section 3: Manage Stress in Daily Life
Lecture 16 1 Immediate and Most Quickest Tip to Deal with Stress
Lecture 17 5 Super Quick De-Stressing Tips
Lecture 18 5 Ways for Coping with Stress in 5 Minutes or less
Lecture 19 7 Strategies for Coping with Stress in 10 Minutes or less
Lecture 20 Fully Guided Yoga
Lecture 21 Fully Guided 4-7-8 Breathing Technique
Lecture 22 Fully Guided Emotional Freedom Technique EFT Technique
Lecture 23 5 Strategies for Coping with Stress in 30 Minutes or less
Lecture 24 Stress Dairy Assessment Analysis (Downloadable)
Section 4: Evidence-Based Long Term Ways to Manage Stress
Lecture 25 15 Evidence-Based Long Term Ways to Manage Stress
Lecture 26 Guidance about Lab Test to Help Manage Stress
Lecture 27 Guidance about the best Mineral to Help Manage Stress
Lecture 28 Guidance about the best Herb to Help Manage Stress
Lecture 29 Guidance about the best Supplements to Help Manage Stress
Lecture 30 2 DIY Strategies To Regain Your Calm
Lecture 31 Fully Guided Diaphragmatic Breathing (DB)
Lecture 32 Fully Guided Progressive Muscle Relaxation (PMR)
Lecture 33 Bonus Technique-Fully Guided Relaxation Response (RR)
Lecture 34 Bonus Technique - Fully Guided Mindfulness Based Stress Reduction (MBSR)
Lecture 35 Know Your Strengths
Section 5: Manage Stress at Home
Lecture 36 5 Ways To Reduce Stress At Home
Lecture 37 5 Bonus Tips To Address Stress In Life
Lecture 38 9 Ways To Deal With Psychological Stress
Lecture 39 Record Of General Stress Before And After Practicing Tips
Lecture 40 Roadmap for Success
Section 6: Manage Stress at Work
Lecture 41 6 Easy Ways With 2 Strategies To Reduce & Manage Stress At Work
Lecture 42 Fully Guided 11 Stretches To Do At Work Every Day
Lecture 43 3 Bonus Tips For Relaxation At Work Place
Lecture 44 3 Bonus Points For Peace Of Mind At Work
Section 7: Recommendations
Lecture 45 Recommended Articles for Stress Management
Lecture 46 Relaxing Videos
Lecture 47 Relaxing Music
Anyone who desires an everlasting relaxed and healthy lifestyle