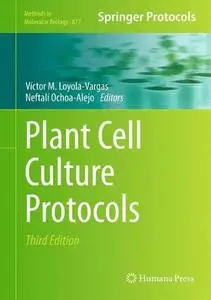 Plant Cell Culture Protocols By Víctor M. Loyola-Vargas, Neftalí Ochoa-Alejo (auth.), Víctor M. Loyola-Vargas, Neftalí Ochoa-Alejo (eds.)
2012 | 430 Pages | ISBN: 1617798177 | PDF | 7 MB
Cell culture methodologies have become standard procedures in most plant laboratories. Currently, facilities for in vitro cell cultures are found in practically every plant biology laboratory, serving different purposes since tissue culture has turned into a basic asset for modern biotechnology, from the fundamental biochemical aspects to the massive propagation of selected individuals. "Plant Cell Culture Protocols, Third Edition is divided into five convenient sections that cover topics from general methodologies, such as culture induction, growth and viability evaluation, statistical analysis and contamination control, to highly specialized techniques, such as clonal propagation, haploid production, somatic embryogenesis, organelle transformation. The volume concludes with a section on the laborious process of measuring the epigenetics changes in tissue cultures."Written in the successful Methods in Molecular Biology™ series format, chapters include introductions to their respective topics, lists of the necessary materials and reagents, step-by-step, readily reproducible protocols, and notes on troubleshooting and avoiding known pitfalls.Authoritative and easily accessible, Plant Cell Culture Protocols, Third Edition seeks to serve both professionals and novices with its guide to the most common and applicable techniques and methods for plant tissue and cell culture.