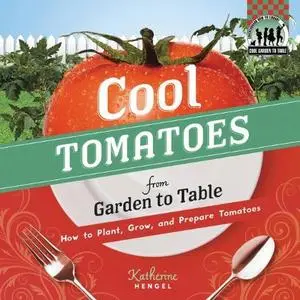 Cool Tomatoes from Garden to Table: How to Plant, Grow, and Prepare Tomatoes By Katherine Hengel
2012 | 34 Pages | ISBN: 1617831875 | PDF | 5 MB
One of the books in the "Cool Garden to Table" series, this edition explores raising your own tomatoes and provides directions for preparing six recipes when the tomatoes are harvested. Touting the benefits of home grown foods, the book goes on to discuss kinds of tomatoes and the ease of growing them even on a patio. Step-by-step instructions, with accompanying photographs, guides readers on planting tomato seedlings in containers and providing optimum conditions for growth. Drawings illustrate stages of growth expected with tips for maximizing results. Steps on harvesting and questions and answers on issues that might arise during the growing period are provided. The remainder of the book features ingredients, tools and cooking terms, with accompanying photographs, that will be used in the six recipes provided to try with the harvested tomatoes. The recipes are varied, easy to prepare and the step-by-step directions are encouraging for beginners. A glossary, index and source for further info are included at the end of the book.