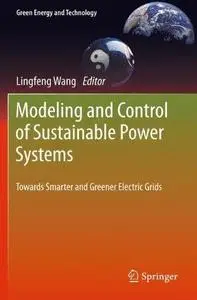 Modeling and Control of Sustainable Power Systems: Towards Smarter and Greener Electric Grids By Anurag K. Srivastava, Ramon Zamora (auth.), Lingfeng Wang (eds.)
2012 | 370 Pages | ISBN: 3642229034 | PDF | 13 MB
The concept of the smart grid promises the world an efficient and intelligent approach of managing energy production, transportation, and consumption by incorporating intelligence, efficiency, and optimality into the power grid. Both energy providers and consumers can take advantage of the convenience, reliability, and energy savings achieved by real-time and intelligent energy management. To this end, the current power grid is experiencing drastic changes and upgrades. For instance, more significant green energy resources such as wind power and solar power are being integrated into the power grid, and higher energy storage capacity is being installed in order to mitigate the intermittency issues brought about by the variable energy resources. At the same time, novel power electronics technologies and operating strategies are being invented and adopted. For instance, Flexible AC transmission systems and phasor measurement units are two promising technologies for improving the power system reliability and power quality. Demand side management will enable the customers to manage the power loads in an active fashion. As a result, modeling and control of modern power grids pose great challenges due to the adoption of new smart grid technologies. In this book, chapters regarding representative applications of smart grid technologies written by world-renowned experts are included, which explain in detail various innovative modeling and control methods.