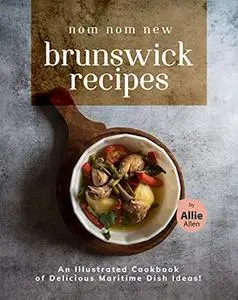 Allie Allen, "Nom Nom New Brunswick Recipes: An Illustrated Cookbook of Delicious Maritime Dish Ideas!"
English | 2021 | ASIN: B094Q6HRYC | 84 pages | EPUB | 3.2 MB
What are some of the most well-known dishes made in New Brunswick, Canada?
What other types of recipes are chefs and home cooks in New Brunswick especially fond of?
Can you recreate the Canadian Maritime dishes authentically at home?
From one ocean bay to another in New Brunswick, they offer some of the freshest and finest seafood you'll find anywhere. The lobster has a unique taste, for example, that is not found in lobster caught elsewhere. It is often attributed to the cold temperatures and depth of the waters. But there is so much more seafood!
New Brunswick has three sides bounded by oceans, and they have rich and plentiful fishing grounds in the Northwest Atlantic Ocean. The seafood caught includes blue mussels, clams, crab, sole, trout, haddock and salmon.
The fishermen harvest oysters from the start of September till November's end. They and other ingredients make up the unique and popular Acadian dishes that so many people in the area enjoy.
In this cookbook, you'll find other dishes, too, like Poutines Rapées, which are a one-of-a-kind mixture of raw and cooked potatoes, salt pork and molasses or brown sugar.
From plentiful seafood to other diverse dishes, plunge into cooking New Brunswick foods soon!