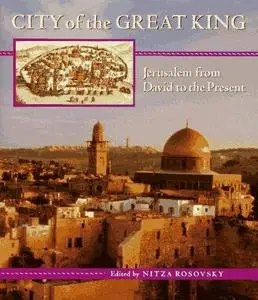 City of the Great King: Jerusalem from David to the Present By Nitza Rosovsky
1996 | 562 Pages | ISBN: 0674131908 | PDF | 33 MB
In 1996 Jerusalem celebrated 3000 years since the biblical conquest by King David. That very celebration serves as a political statement, marking the city as historically Jewish. The city cannot escape fiercely argued claims to primacy argued in religious, political or historical terms, not only between Israeli-Jew and Palestinian-Arab, but between Islamic, Christian and Jewish traditions, and between secular and orthodox Jews. This scholarly volume contains 18 studies, edited by Nitza Rosovsky, which approach the city from many different angles: through religious spirituality, folk songs, literature, art, architecture and politics. Rosovsky contributes a fine introduction and two of the studies, including a fascinating account of the perceptions of 19th century travelers including Mark Twain, Benjamin Disraeli and Herman Melville.