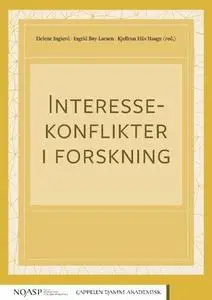 Interessekonflikter i forskning by Ingierd, Helene; Bay-Larsen, Ingrid; Hiis Hauge, Kjellrun
Norsk | 2019 | ISBN: N/A | 259 Pages | PDF | 2.95 MB
"This anthology examines various ethical issues related to conflicts of interest in research and raises fundamental questions about the role of research in society. In recent years, researchers and others have expressed concern on several occasions about how research has been conducted or used for political or economic gain, where outcomes of research have been called into question and accusations of rigging or poor quality have been leveled. " "Conflict of interest" is a term from research ethics that can help clarify what is at the core of many of these cases. Questions posed and explored in this anthology include: What exactly is a conflict of interest within the context of research? Is the ideal of pure, unbiased objectivity even realistic? To what degree can transparency remediate challenges associated with conflicts of interest? The objective with this collection of chapters is to encourage reflection and discourse about the ethical principles and norms that insure quality and integrity in research. The anthology will be of interest to researchers in particular, and all others concerned with ethics in research."