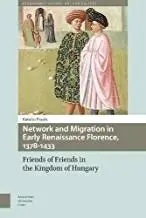 Network and Migration in Early Renaissance Florence, 1378-1433 by Katalin Prajda (Author)
English | 2018 | ISBN: 9462988684 | 261 Pages | PDF | 2.27 MB
This book explores the co-development of political, social, economic, and artistic networks of Florentines working in the Kingdom of Hungary during the reign of Sigismund of Luxembourg. The social network of these politicians, merchants, artisans, royal officers, dignitaries of the Church, and noblemen is the primary focus of the book. Local Florentines constituted an extended network of "friends"; the existing personal connections among them were defined by common political interests, neighborhood proximity, marriage alliances, kinship ties, patronage, and company partnership. Through analysis of the links between these actors, the book addresses questions of the complexity of social ties in early Renaissance Florence, exploring how multiple types of networks shaped the dynamics of public and private spheres. It also seeks to reach more general conclusions about Florentine migration abroad and to envision ways in which early modern migratory groups were formed.